Here is Expe Aventure Motoneige
In partnership with the Auberge Chez Ignace, we offer star or itinerant snowmobile tours on marked trails accessible to all.
A la carte proposals ranging from a few days to a week or more.
You have three options: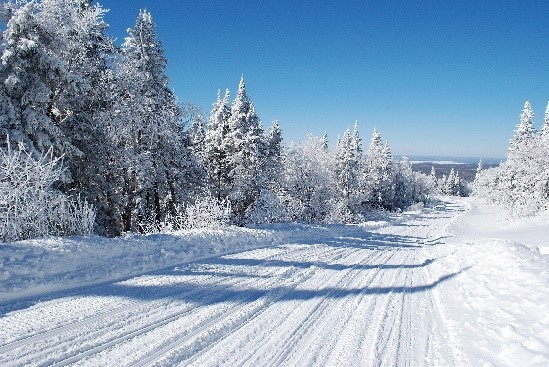 In star with return every evening at the Auberge "Chez Ignace".
By roaming with change of accommodation every day.
For multi-activity stays: snowmobiling - dog sledding - snowshoe walking for half or full day.
You will discover the snowmobile and the joys of driving. Raids accessible to all!
Our rates are based on double occupancy room, 1 person per snowmobile, full accomodation, equipment and fuel.
Contact us for 2 people by snowmobile or single room.
These rates do not include air transportation.
We support you in the organization and development of your snowmobile raid on different circuits departing from the inn Chez Ignace. You will be picked up at Montreal-Trudeau Airport (YUL) by the transporter « l'Étoile du Nord » who will take you to the Inn.
Please note, depending on the weather or the trail conditions, some stages may be modified.
Tours available
Package Multi Activities : 500 Km starting at $3,390 CAD per person
Package in roaming 800 Km starting at $3,740 CAD per person
Package in roaming 1100 Km starting at $3,850 CAD per person
Package in roaming 1200 Km starting at $3,890 CAD per person
---
Tour in star : 700 Km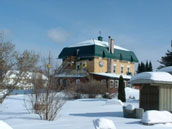 Lodging at Auberge chez Ignace during your stay, located on the shore of the large Nominingue lake. Dinner, night and breakfast included. At the end of the afternoon you will return to your hostel for a relaxing evening, you can take advantage of the outdoor jacuzzi to relax at the hostel.
Day 1 :
Arrival at Montreal Trudeau Airport (YUL). Pick-up by the transporter "l'Etoile Du Nord", who will transport you to the hostel at Auberge chez Ignace.
Day 2 :
Snowmobile ride, getting started with your snowmobile, small circuit to familiarize yourself with your mount, trail ride, photo stop and lunch at Labelle, about 105Km.
Day 3 :
Snowmobile ride, your snowmobile has no more secrets for you and we can move a little further in the great spaces that Quebec offers, ride through the forest and stop for lunch at Lac des Écorces, about 150 km.
Day 4 :
Snowmobile ride, today we will see trails further north and we will discover the fall of Lake Curières, then crossed by the Kiamika regional park, lunch at Chute Saint Philippe, about 160 km.
Day 5 :
Snowmobile ride this morning heading west to travel about 155 km which will take us through winding paths, crossing Lac des iles, lunch in Kiamika.
Day 6 :
Snowmobile ride, direction Mont-Laurier to then climb the Montagne du Diable, magnificent viewpoint where you will have a wide view of the Laurentians region, after a good lunch at the mountain refuge, we will discover the Windigo falls, return to our hostel at the end of the afternoon, about 160 km.
Day 7 :
Everything is coming to an end and unfortunately, you will have to leave but we hope that your stay will have been very pleasant and that you will leave nostalgic with images and memories in your head, the pleasure of seeing you again... Leaving for Montreal Trudeau Airport at 11AM.
Day 8 :
Arrival to your final destination.
---