Cyclo-Gites offers you the 200 km of the Petit Train du Nord, 3 lodgings, dinners, nights and breakfasts.
Cyclo-gîtes offers several choices of itineraries adapted to your needs with accommodation, dinners and breakfasts included.
In partnership with Autobus Le Petit Train du Nord, and as an option, we offer transport and that of your bike from St-Jérôme to Mont-Laurier, transport of your luggage from hostels to hostels and bike rental if necessary.
With friends or as a couple, you will live an enriching experience by discovering the beauty of the Laurentians on the "Petit Train du Nord" track, section of the route Verte, 200 km of safe track through lakes and rivers.
Our main partners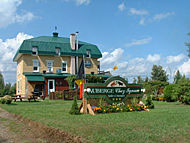 At kilometer 141.9, the Auberge chez Ignace in lac Nominingue, offers you a beautiful view on the lake and a rest area. You can swim, enjoy the spa or go kayaking. Dinner on the terrace and liquor license.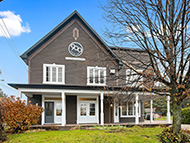 At kilometer 82.5, the Auberge Le 900Tremblant offers you Tremblant and its surroundings, its music festivals, its pedestrian streets, and the beauty of the European style of its mountain. You can take advantage of public transportation for your visits.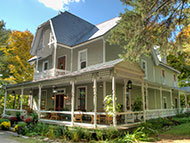 At kilometer 32.5, the Auberge Au Clos Rolland in St-Adèle will let you discover the beautiful region of Pays-d'en-Haut. Located in the heart of the Laurentians, in Sainte-Adèle in the Mont-Rolland sector, we welcome you to our ancestral cottage with its enchanting decor where nature and tranquility reign.
---
Suggested routes
---
Cyclo-gîtes Le Classique
200 km bike tour in 4 days / 3 nights
Day 1 (58.10 km) Auberge chez Ignace, Nominingue
Transportation from St-Jérôme to Mont-Laurier (km 200)
Bike path to Nominingue (km 141.9)
Dinner / night / breakfast
Day 2 (59.40 km) Le 900Tremblant, Mont-Tremblant
Bike path to Mont-Tremblant (km 82.5)
Dinner / night / breakfast
Day 3 (50 km) Auberge Au Clos Rolland, St-Adèle
Bike path to St-Adèle (km 32.5)
Dinner / night / breakfast
Day 4 (32.5 km)
Bike path to St-Jérôme (km 0)
Get your luggage and vehicle back.
Rates (2023)
Double occupancy: $479 plus taxes per person
Shuttle and luggage transport option: 130$ +tx per person

Simple occupancy: $669 plus taxes
Shuttle and luggage transport option: 186$ +tx per person

---
Cyclo-gîtes the Rapido and the Baladeur
It is possible to adjust your itinerary to your wishes.
Sportier, the Rapido: package in 2 nights/ 3 days
More relaxed, the Baladeur: package in 4 nights / 5 days with 1 additional stopover in Labelle or why not extend the visit by an additional night in one of the inns.
Itineraries, details, and rates, contact us.
---
For reservation: Auberge Chez Ignace (819) 278-0689 or This email address is being protected from spambots. You need JavaScript enabled to view it.
Check-in is at 3:30PM and check-out is at 11AM.
Reservation conditions: Lodging and transportation: 100% charged at the time of reservation.
Cancellation condition: 70% refundable up to 10 days before your arrival. Non-refundable within 10 days.
These Rates do not include taxes and service.
These rates include dinners/beds/breakfasts.
These prices do not include transport of luggage and people
Price subject to change without notice.
Unfortunately, we are not responsible for the weather.
---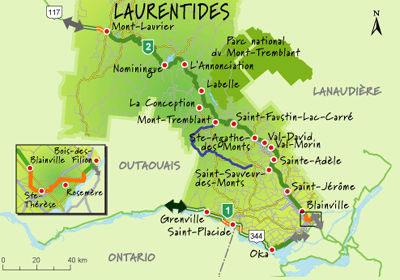 Cycling packages
2 nights / 3 days
3 nights / 4 days